Last updated Dec. 1, 2019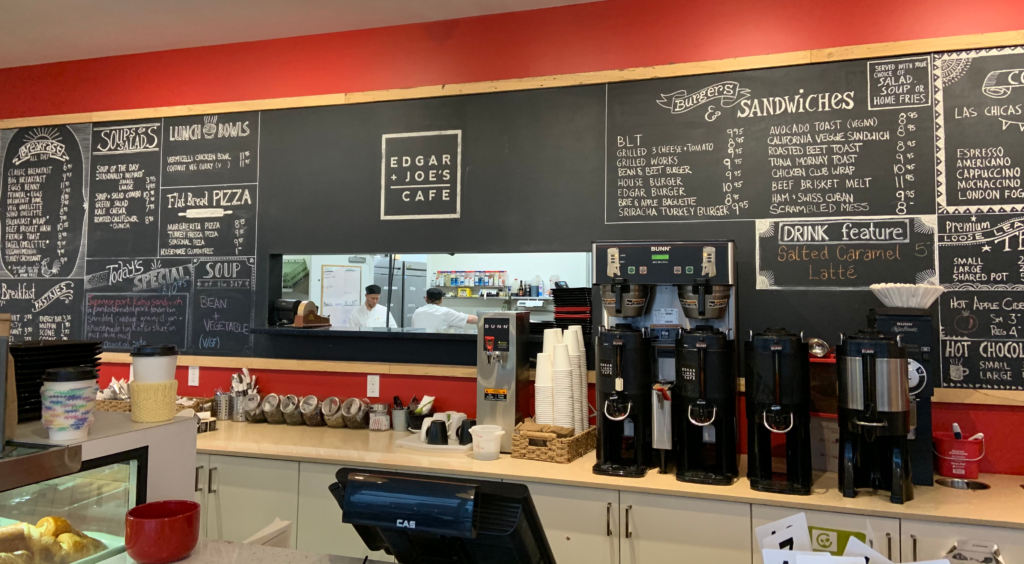 The large, bright café is filled with sounds of chatter, clinking crockery and a whirring espresso machine while employees steadily serve the morning rush.
A line forms in front of the long granite counter as customers peer at the daily special scrawled on the massive chalkboard menu. Servers efficiently clear dirty dishes from tables to make room for new groups.
"It's always nice to see the variety of people we can bring in," says Jasmine Davidson, a front-of-house server here at Edgar and Joe's Café. "The atmosphere is different every day."
It's important that Edgar and Joe's feels like an inclusive and welcoming space, says Neil Burnett, the café's manager of food and hospitality. The café is a social enterprise initiative by Goodwill Industries, which employs persons with disabilities and barriers to employment.
"We hire older individuals, younger individuals, just anyone. Anyone who we feel would be a good fit within the hospitality field that for whatever reason is having troubles finding employment," explains Burnett.
As of November 2019, the unemployment rate for the London census metropolitan area (CMA) was estimated to be 6.2 per cent, according to Statistics Canada—much higher than the Canadian average of 5.7 per cent. A report by the London Community Data Research Group (CDRG) notes that the employment rate has only grown by 0.6 per cent since 2006, which is one of the slowest growth rates among large CMAs in southwestern Ontario.
"The problem is trying to identify why that is … and look at the deep causes of this participation rate," said Gerry McCartney, head of the London Chamber of Commerce, in an interview with the London Free Press in early November. The number of working-aged adults who are participating in the workforce is also low, according to the CDRG report.
A task force called London Jobs Now was launched by Mayor Ed Holder earlier this year with the goal of identifying causes and solutions to London's unemployment issue. But the report, which was released in June, did not address the common barriers to employment that many Londoners face.
Goodwill Industries identifies learning challenges, physical challenges, mental health challenges, developmental challenges, visual impairment, deafness or hearing impairment, speech impairment, and cognitive disabilities as barriers to employment. Other possible barriers include a lack of education or gaps in employment.
A lot of workplaces aren't giving people who face these barriers an opportunity, says Burnett. "They would rather not deal with somebody who hasn't worked no matter what the reason."
"You hear that stigma—that all people who are on assistance, who are on Ontario Works—that they don't want to work anyways," Burnett says. "But the majority of these individuals are just people who need somebody to believe in them, who need a foot in the door."
For Davidson, many employers had counted her out for the missing time on her resume.
"Because I do have gaps in my employment, that seems to be my biggest barrier," says Davidson, who currently works part-time at the café but is on the lookout for full-time employment. It's nearly impossible for Davidson to save money on a part-time salary while paying back government assistance, she says.
Davidson participated in Goodwill's Hands on Hospitality program a little over two years ago. The program is a combination of skills training and hands-on experience at the café, followed by a co-op placement with another organization in the city.
"The problem is when I did my co-op, it was when the last minimum wage hike went in and nobody was hiring," says Davidson. She was left without employment for four months before Burnett found an opening for her on the Edgar and Joe's team.
"Being unemployed, it's just a hit to your confidence… Looking back, I did have typical symptoms of depression when I was unemployed," she says. "The fact that I'm working now, I can get out of my house… there's a confidence boost that comes with it."
London's high unemployment rate "increases the number of individuals we have coming through our doors [looking for a job]," says Burnett, "but it's truly just our mission to help these individuals." Since leading the café's launch seven years ago, Burnett has come to understand the impact that meaningful employment can have on a person.
"It's tremendously important for an individual's self-esteem, to be able to understand that you can pay your own bills, you can have a roof over your head, you can put food on your table," he says.
The percentage of Londoners aged 15 to 29 who are not in employment, education or training sits at 15 per cent, significantly higher than the 12 per cent Ontario average, according to the CDRG report. This significant portion of London's young population might face a variety of employment barriers, and, per the report, are more likely to become marginalized and dependent on social services.
"I had to move out when I was young, 'cause there were complications with my family, so then I had to live on my own and work harder just because I needed the money to live," says Chelsy Mcnichol, a line cook and prep chef at Edgar and Joe's.
"I was making like $100 every paycheque and I had to pay that for rent, so I had like no money, I was just broke all the time," says Mcnichol, who used to pay rent to a friend to stay at her place. "It sucked but that's what I had to do to stay off the streets."
Mcnichol was introduced to Burnett through a co-op teacher at her high school. Since Grade Nine she has known that she is interested in cooking, and the co-op program enabled Mcnichol to earn school credit for volunteering at the café.
"For a whole semester I just worked here. Even during the summer I'd come in, even to just do some volunteer hours," she says. Mcnichol's work ethic impressed Burnett, who offered her a job in the kitchen.
It was nearly impossible for Mcnichol to balance full-time school hours while working enough to make rent money, she says. She now works four to five days per week at the café and hopes to eventually complete the rest of her Grade 12 credits online.
For young adults like Mcnichol, the lack of a high school diploma can be a barrier to future employment. Right now, however, she's focused on saving money for a car and a new home for herself and her puppy, Mia. Eventually, she says, "I want to get my red seal for cooking. It's like the highest level of chef you can be."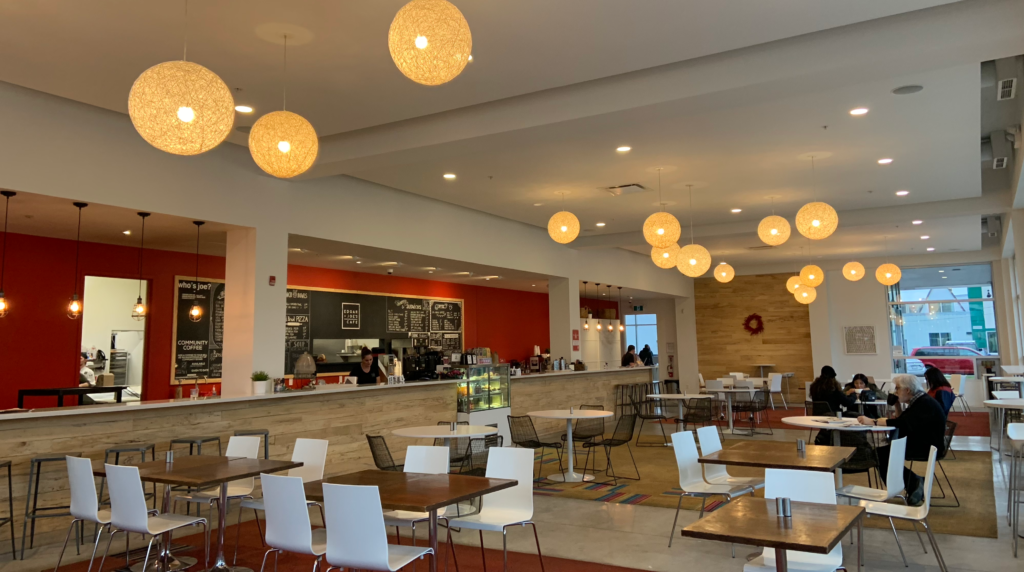 At Edgar and Joe's Café, individuals who have faced employment barriers are given the opportunity to demonstrate their work ethic and find meaningful employment in a welcoming environment.
"It's inclusive," said Mcnichol. "It makes you feel like, not judged, in a way."
There are not many organizations in London specifically providing these kinds of opportunities, says Burnett. "It's great that you can make this part of your business, but it's not in spite of what we do," he explains. "People aren't coming in because we are helping individuals… they are coming in and then seeing the good that we are doing to help them, and that's just a benefit for them to continue to come."
Inclusive employment is important for organizations to implement if they want to reflect the community which they serve. Not only would it make it easier for individuals with disabilities or other barriers to find meaningful work, but it would also help to increase London's workforce participation rate.
It is "tremendously rewarding" to help people find employment, says Burnett, who in doing so, helps to strengthen the London community as a whole. "Whether they're here for two months and find a job elsewhere, or they're here for seven years. We just want to give people a chance."